A whistle-stop guide to important content that managed to cut through over the past week, together with some thoughts about what made them work.
Naming and shaming COVID sceptics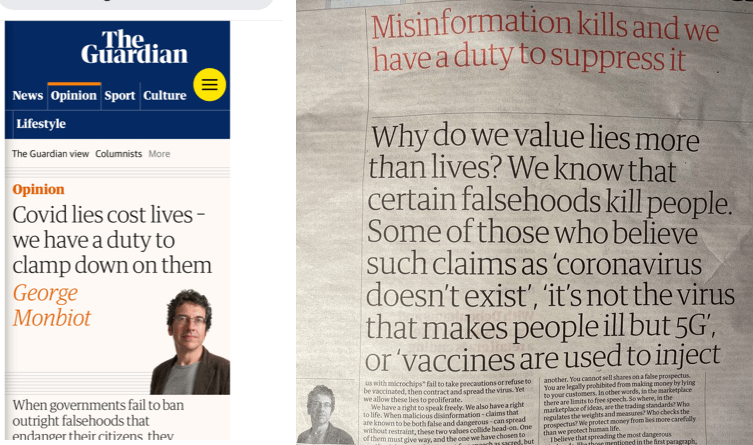 I thought the online headline here really worked, or at least the first part, which is rather lyrical. The offline version was a bit of a mouthful and I suspect the web team's A/B testing rapidly rejected it.
Within the piece is the nugget — mention of a new site covidfaq.co, which has been set up to combat misinformation it politely attributes to 'COVID sceptics'. This is a voluntary effort by serious academics to deal with dangerous myths that threaten to undermine efforts to contain the virus. Also names and shames the sceptics. Well worth a visit.
2. World's biggest time sucks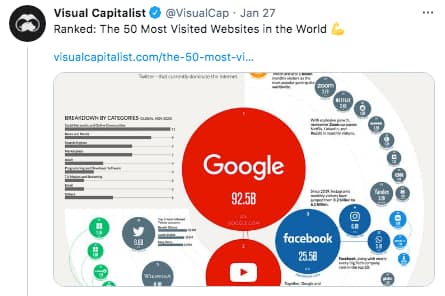 Visual Capitalist have made a business out of producing very sharp infographics that stand out on social. Charts, tables, and other graphics make such a refreshing break from all those stock photos that the underlying posts tend to outperform.
The roundness of the design here is a thing of beauty and the cropping of the full circle shows just enough to make the obvious point that Google, Facebook and YouTube are the biggest while luring the scroller in to see the full image.
3. All factoids are not created equal
In previous years , Oxfam has found its estimate of how much wealth billionaires own as a proportion of the global total attracting criticism because it has to make some assumptions in order to do the calculation. This year it took a different angle and helped viewers to get their heads round the numbers with some great graphics and this neat gif:
#MyBigIdea
Davos went completely digital this year. I've run the digital output from the World Economic Forum's previous five Annual Meetings but left the organisation at the end of last year, which has allowed me to see a lot more of the output. The challenge for an event like this is the sheer number of things going on at the same time and the introduction of the daily Radio Davos podcast really helped here in addition to the highlights blog. But what stood out for me was the crowd-sourced solutions project run with TikTok under the hashtag #MyBigIdea, which encouraged users to submit their ideas for making the world a better place. Posts with the tag has amassed 135 million views by the time the Davos digital meeting had finished.
Pasta-cooking playlists
A clever bit of content marketing has seen Barilla, the world's largest pasta maker, team up with Spotify to produce the perfect length playlists for cooking pasta (10-11 mins according to pasta type). Perhaps a bit more fiddly than using the timer on your mobile phone but amused me.